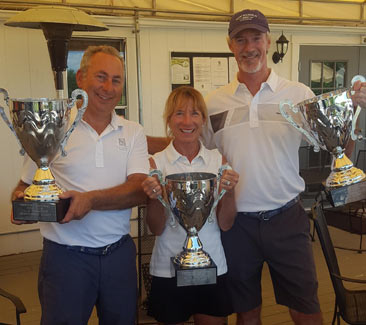 Club Championship Recap
The 2017 Newport National Club Championships concluded Sunday August 20th, with 3 new champions, for the first time since the tournament's inception back in 2008.
The Championship Division final featured two players who had both been to the finals in previous seasons, but were unable to capture the elusive title. Frank Spinella snuck into the match play competition as the 8 seed and final qualifier, and won his quarter final and semi-final match in extra holes each time. Neil Harrell won his way to the finals in more dominating fashion, clipping both of his previous opponents with multiple hole victories. The finals match is always a grueling test for the players, as the tees are tipped out to 7300+ yards and the match is 36 holes.
Spinella built an early lead on Harrell, with as much as a 4 up lead in the opening 18 holes. The lead proved too great for Harrell to overcome, despite some valiant efforts to stage a comeback. Spinella was able to play conservatively down the stretch. Using some magical touch around the greens to convert numerous up and down opportunities, Spinella eventually closed out the match 6 & 5 on the 31st hole of play to claim his first Newport National Club Championship.
The Net Division allots players 100% of their handicap in qualifying and in match play, and always proves to be the most tightly contested in all stages. The final featured former Net Division Champion, Scotty Murray, and first time finalist, Mike Rogers. Murray won his way to the finals by knocking off the number 1 overall seed, John Schlesinger, in an epic match that went right down to the 18th hole. Rogers would face two difficult tests also on his way to the finals, which would prove as great preparation for what would be a highly anticipated finals match. There were highs and lows for both players, but the handicapped holes would prove to be the difference, and give Mike Rogers his first major title at Newport National.
Newport National's favorite ladies faced off in a head to head match up, featuring Maryanne Allan and defending Champion, Sue Korber. The 36-hole stroke play event was spread out over the two weekend days, featuring a combination of a day 1 gross score, and a day 2 net score (with 100% handicap). The match up would be highlighted by some tremendous play by Maryanne Allan, who would ride a two-day hot streak to post a 36 hole total of 163, and claim victory over former champion, Sue Korber.
The membership was well in attendance for the awards ceremony which followed play on Sunday, giving everyone a great opportunity to celebrate the three first- time champions. This was truly a memorable season of Club Championship play, and the excitement already has members and staff alike looking forward to the Championship play again next season!